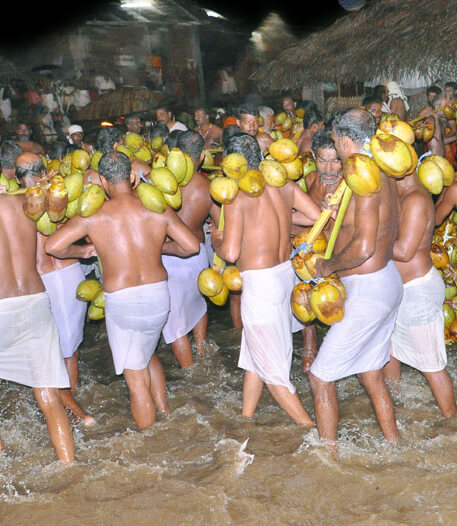 Poojas" at Kottiyoor are as per the "naal" where as it's the date that decides "Ilaneervaipu". It has to be on "7th sapthami naal". If vaishakham naal does not suit, either avittam or the "Naal" next to it would suffice.
One "kavu" would contain 6 tender coconuts on either side. Rights for this offering is with Janmasthanikars of Thiyya families like Eruvetti, Kuttiyadi, Aayirethi, Mudisheri, Mekkileri, Kuttiyan, Theyyan.
Of this, the right to offer oil also is with Eruvetti. The procession of tender coconuts along with one pot of gingelly oil starts from "Vettekku Orumakan" temple. Sthanikan Anjoottan accompanies dressed as "Virabhadran".
Musical instruments "Munnoottaan", "Vaakkan Kuzhallooth" are part of the procession. Reaching the East "nada" by dusk, at Chandrashekharan mavu, Mukkichena is performed and then await the muhoorthamAt night after "pantheeradi pooja", "kudipathi-kaaranavar" sets down a silver pot in the east "nada" near the "bhandaram". Then follows the "bhoothabali" in the east nada of "Thiruvanchira. In a specific place 4 banana stems covering (vaazhappola) are placed to form a square.Kudipathi kaaranavar, places the silver pot near this formation. Then those bearing the kavu, dip in vaveli and run to thiruvanchira, go round the "Thattupolla" thrice and offers their kavu.
In the east nada anjoottaan stands on one foot on the step. Munnoottan along with the musical instrument stands beside him. Once the offering of the tender coconut are made, each person goes up to Anjoottaan to receive his blessing before leaving. Eruvetti along with family now come in to the Sannidhanam via the west nada, offering "Thrikkayyi kuda" before leaving. The knives to cut the tender coconut offerings are given by "Kathithandayaan".