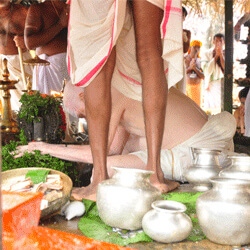 The third aaaraadhana. Rities are the same as for the other two except the "Allingana (embracing) pushpanjali. By Kurumathoor Nayikan Brahman – who has the right b birth. After the noon sheevelli.
Nayikan, still with wet cloths on him arrives at the Manithara. Flowers handed over by Usha Kambram is offered to the idol. So also water passed on by Palakkunnam Namboodiri. Next he places both legs on either side of "Swayambhoo". and deeply embraces the idol.
This moment, this rite symbolizes the pinnacle of Bakhti of the vyshaka festival. Next, in the Kaiyyala of Aakkel decendants a feast fit for god is given to Nayikan.