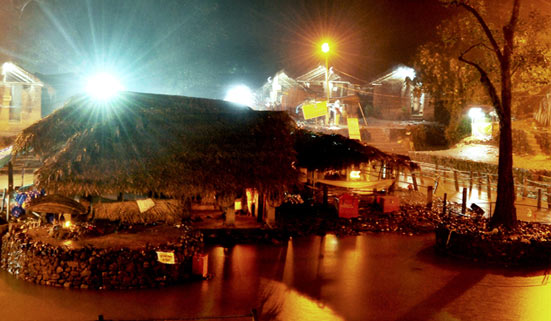 Kottiyoor Temple is one of the oldest hindu pilgrimage spot in the planet. The temple is located in southern India, north part of Kerala state. Kottiyoor Temple situated on the beautiful Sahya mountain range valley and is blessed with abundant natural beauty.
At Kottiyoor, there are two temples - Akkare Kottiyur and Ikkare Kottiyur, located on the opposite banks of Bavali river. Akkare Kottiyur is open during the Kottiyoor Vaisakha Maholsavam festival only.
As per calculations the, area needed for construction of a temple was so vast that it would be impossible to construct an edifice of this magnitude. Hence, even today the temple exists in the form of several small temples, almost 72 numbers. Every person connected with temple activities resides within this boundary. In the middle of the circular water pond, is a semicircular raised "Thara" – the Manithara.
The site of "Swayambhoo" has water surrounding it, called 'Thiruvanchira' ; A devotee standing east and facing west, while praying at the Manithara , the circular 'thara', seen to the left is 'Ammarakal Thara', the place of Sati's suicide. It is believed, Thiruvanchira is the blood scattered during Virabhadran's destruction of the Yaga.
The shelter created for the Yaga, has given place to the thatched hutments seen today. Priests as well as temple authorities stay in such huts. More over "Koothambalam, Kalavara, Ocher, Ullattu manushyar, Kudipathikal, Kanakkapilla, Aashari, Mooshari, Kollen, Kurichiyan", have different sheds today.
Places in this area are named reflecting the mental and physical conditions; Sati Devi went through on her passage to the "Yagashala". The place where she felt the pangs of separation from her beloved is "Manathana", when tears poured out, the place became "kanneer char", Feeling tired, she rested- at "Aayothumchal". An ox provided for the tired Devi to ride on became "Kelakam". Noise emanating from 'Yagashala' made her stretch out to have a glimpse is now "Neendunokki". The place of taxation - "Chungakunnu". Where she walked slowly became "Mandhemcheri". The place where she fell down ,tired ,is "Murchilakadu".
The sword which decapitated Dakshan, thrown on the ground is "Mutherikavu". Stone hearths used for boiling milk came to be known as "palukachiyamala".Anyway "Kottiyoor" remains as the place where Sati Devi, Shiva and other holy men once came together.